A couple weeks ago I rented a brand new 2015 Ford Fusion and put 1,800 miles on it in a week, trekking through Arizona and Utah terrain. Here's what my experience was like.
The Ford Fusion is one of the company's full-size sedan vehicles that leads the Ford pack when it comes to offering a car for a true American family, but it's so much more than that. It's a car that comes with a great design that makes even the most diehard car enthusiasts turn their heads.
I spent a long week with the 2015 Ford Fusion and hated handing over the keys after I put it to work for over 1,800 miles. I was returning the car knowing I'd be going back to my older 2002 Accord, so saying that I would miss the Ford Fusion isn't actually saying a whole lot.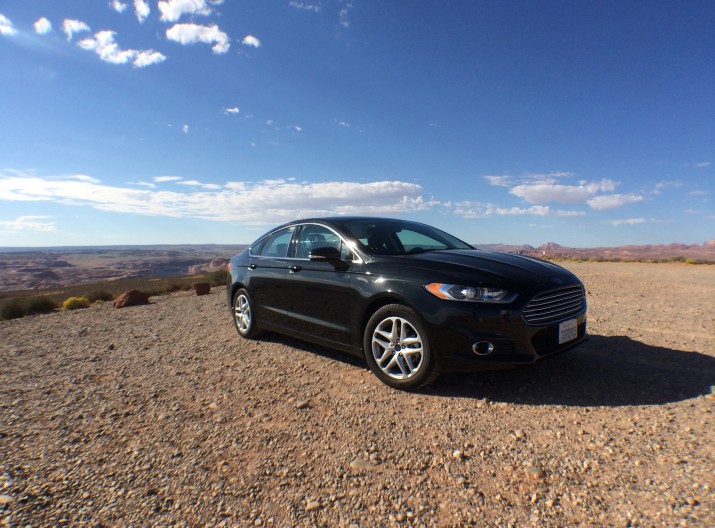 The specific model that I drove was the Ford Fusion SE, which is toward the lower end of the scale for the Fusion, but it still came with Ford SYNC, SiriusXM satellite radio and one of those nifty back-up cameras. And with a starting MSRP of $24,000, the 2015 Ford Fusion SE is a pretty tempting buy for those who can fork over the cash, although I paid for a week with the car using my airline miles, so the decision was pretty easy.
My journey began in Tempe, AZ and finished in Salt Lake City, UT. The drive there is around 670 miles, but I also drove it all the way back to Tempe and hit up some sight-seeing on the way back. Most of the trip consisted of all sorts of hills and mountains to drive through, going uphill and downhill for hours on end. I certainly got a better feel for the car than I would have on the completely flat terrain of my home state of Indiana, so I have that to be thankful for.
I learned more about the Ford Fusion than I ever thought imaginable out of a rental car. Rental cars are one of those things where it can be a pain in the rear end, but you need something to get you from A to B, so you kind of just go through with it. However, the Ford Fusion was a different story. It was kind of like how you didn't really want to initiate small talk with the person sitting next to you, but the next thing you know you're chatting up a storm and actually enjoying the time you're spending together. That's how it was with this car.
I've always liked the design of the Ford Fusion, ever since the company overhauled it in 2012. The front-end reminds me of an Aston Martin or even a Tesla Model S, sort of providing an exotic car look without the high price tag, yet still keeping the features that make a family sedan great.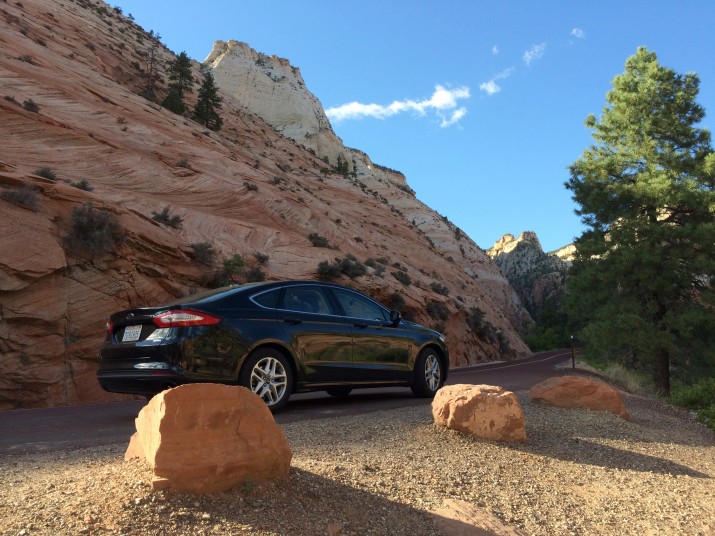 Of course, one of the first things that any traveler looks for first in a car is trunk space.
Don't be fooled by the short rear-end and the stub of a trunk lid, as there is actually plenty of trunk space, and we were able to easily fit our three suitcases in the back, with plenty of room for other things that might need to be stowed (don't get any ideas).
As for the interior, the car offers plenty of legroom up front, and if the driver has short legs, that gives backseat passengers plenty of legroom as well.
However, putting a tall person in the front seat won't leave much room for the rear passenger directly behind them, so plan your seat arrangements accordingly when you're packing up the family for a weekend road trip.
The instrument panel offers a lot of useful information for drivers. It comes with a small LCD display that shows information about your gas mileage, including your average miles per gallon, as well as how many miles you have left to travel before you need to fill up again.
This came in handy in my particular situation, as gas stations can be few and far between out in the desert, so it was good to see how long I could go until I needed to fuel up again. In the end, I averaged almost 28 MPG throughout the 1,800 miles, which isn't terrible by any means for a V6. But I also wasn't that impressed, as my Accord can easily match that.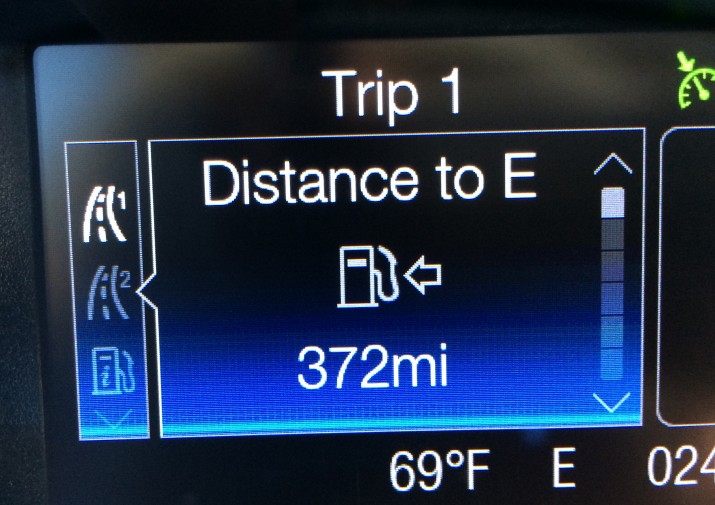 The back-up camera was really nice to have, and while it sounds like just a gimmicky feature, I quickly realized how helpful it was when I used it. After I went back to using my own car, I subconsciously looked down at the control console where the back-up camera would've been, only then realizing that I'm now stuck turning my head around into a position that is far from comfortable to see if there are any obstacles in my way. The Counting Crows were right when they said that you truly don't know what you have until it's gone.
As for driving the car itself, there's not a whole lot to say. It drove like how a new car should drive. But there were a couple things that come to mind.
Firstly, passing cars proved to be difficult. I essentially had to floor the accelerator to get the gas flowing to overtake a slower car on the highway. Otherwise, city driving was great, and I felt that I was in complete control of the car the whole time.
The brakes also took a bit getting used to, as they were insanely touchy compared to my own car. The normal braking that I was used to in my 2002 Accord almost gave me whiplash in the Ford Fusion, but you see this a lot in newer vehicles.
Would I buy a Ford Fusion? I certainly wouldn't say no, but it would depend on my current needs. I will say this, though: if I needed a full-size sedan that could adequately tote around a four-person family with room for junk in the trunk, the Ford Fusion would be near the top of the list.