Graco, one of the country's largest child seat manufacturers, has issued a recall on over 3.7 million child safety seats built between 2009 and July of 2013. The National Highway Traffic Safety Administration (NHSTA) is pushing for an additional 1.8 million seats to be recalled as well. The issue is with the latch for the safety restraints. According to the government, it is extremely difficult to release the latch when the belt has debris from food or other sources stuck behind the button. It should be noted that this DOES NOT affect the effectiveness of the belts in a crash; the seat will fully protect a child in an accident. However, if there is a situation where the child needs to be removed from the seat quickly, that could prove troublesome. Graco is providing replacement belts free of charge to affected seat owners.
We spoke with Eric Bisignano, father of 5, about the recall. He currently owns two of the affected seats in the recall. He has owned many different brands of car seats throughout the years, and notes that his Graco seat latch tends to be more difficult to operate than other seat brands. While he is participating in the recall, he and his family are not overly concerned about the safety of the Graco safety seat. "I am not overly concerned," he stated. "We are using the seat in the meantime."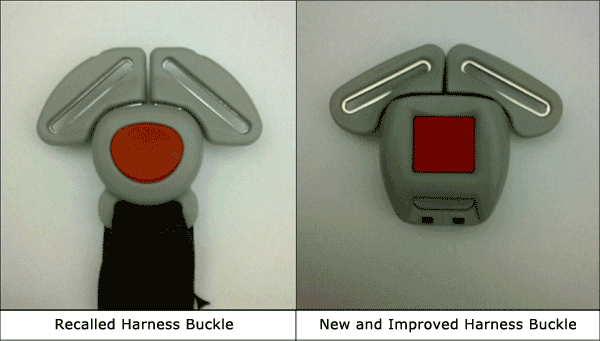 Obtaining a Replacement Harness
On Graco's website they explain the process in taking care of the recall. We recommend contacting Graco early because we are unsure how long it will take for the company to send out replacement harness buckles.
Graco offers a new and improved replacement harness buckle to affected consumers at no cost. If you are experiencing difficulty with your harness buckle and cleaning has not improved its performance, please contact our Graco customer service team at 800-345-4109 (Monday through Friday from 9 a.m. until 5 p.m.) or [email protected]
An automated reply from the initial email states that more information will come within the next 72 hours.
Additionally, Graco provides instructions on how to clean and operate the seat belt latches on their child safety seats. We will pass along more details when we learn them.
Cleaning the Harness Buckle
Opening the Harness Buckle
Replacing the Harness Buckle