The Explorer Limited is Ford's luxury version of the much-loved Ford Explorer, adding leather seats as well as driver safety and convenience features almost too plentiful to count.
Leather and other Limited features don't stop at the front row. Our Ford Explorer Limited review unit included heated seats in the second row, as well as a separate climate control perfect for company or kids.
For buyers that need to haul a lot of people, but can't fathom driving a minivan, the Ford Explorer is a smart choice with room for 7 people and the cargo they carry. When you need room to haul, the seats fold flat to carry a lot of cargo and there is a tow package to add more room.
The price of the 2014 Ford Explorer Limited review vehicle is $47,280 as equipped, and a new base 2015 Ford Explorer Limited starts at $38,100.
The 3.5L V6 in our Ford Explorer Limited review vehicle provides enough power, though there are times where the Ford Explorer Sport's EcoBoost engine was missed. Our Ford Explorer review unit included four-wheel drive with options for multiple terrain types.
2014 Ford Explorer Limited Review Video
Watch this short video to get a closer look at the Ford Explorer Limited. Although the starting price is higher than the standard Ford Explorer, many features are included for that price, which would otherwise increase the cost of a new Ford Explorer.
Ford Explorer vs Ford Explorer Limited
The standard Ford Explorer starts at just over $30,000 and the Ford Explorer Limited at $38,000, so what do you get for the price difference? Here are standard features on the Ford Explorer Limited that are not included on the regular Ford Explorer.
MyFord Touch
Leather trimmed seating surfaces
20-inch Sparkle nickel painted aluminum wheels
12-speaker Sony audio system
Intelligent Access key with Push button Start
Rear view camera
Dual zone climate controls
Remote Start
There are also many options added to our Ford Explorer Limited review unit, including heated and cooled seats, a heated steering wheel and some very handy driver convenience and safety features.
Ford Explorer Limited Performance and Driving
If you need a vehicle that can haul as much as a minivan that drives smoothly, but with more style than a minivan can muster, or if you just want a truck that seats up to seven and delivers a lot sharp-looking interior, the Ford Explorer Limited is a good option.
The 3.5L V6 is powerful enough for this large SUV, delivering good acceleration at most speeds, but it does lack punch if you need a quick boost when you are already at speed. This isn't a car designed to go fast, that's the job of the Ford Explorer Sport, so it's something most Limited owners may not mind. If you need more of a sporty ride, check out the Sport edition which includes similar options.
Overall the Ford Explorer Limited review unit delivered a smooth ride even when loaded down with passengers or cargo. The steering is soft, which means the vehicle doesn't react immediately to a small adjustment. This is ok for a large SUV aimed at offering a better alternative to a minivan, but worth mentioning for drivers coming from something more responsive.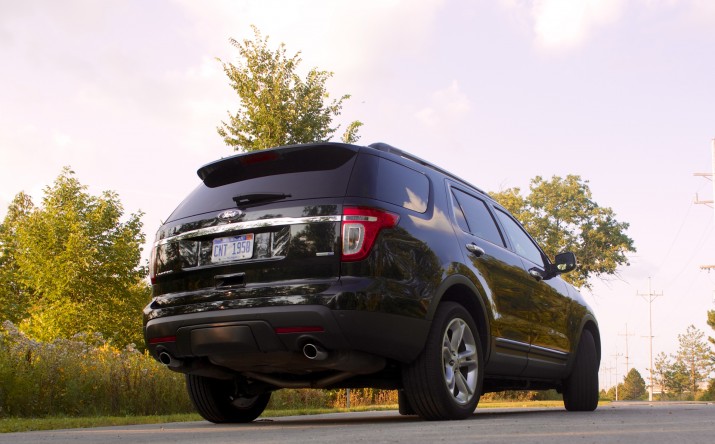 Our Ford Explorer Limited review vehicle was equipped with four-wheel drive that the driver can change based on the terrain, using a small circle located near the shifter. This vehicle also includes a tow package, but we could not test these options.
Driving on the Interstate at 70mph yielded 23.3 miles per gallon and our average Ford Explorer Limited fuel efficiency
Ford Explorer Limited Design & Interior
On the outside the Ford Explorer Limited looks similar to the rest of the current Ford Explorer line. But look closely and there are small touches that differentiate it: like fog lamps, body matching mirrors and on our vehicle: a Dark Side Metallic paint that changes from black to bluish to green in the sun, a stunning look. The mirrors are also heated with lights that help illuminate your approach at night and can fold in with the push of a button on the driver door.
Inside the Ford Explorer Limited are leather seats with room for up to seven people, though six fit comfortably. Leather trim on the interior and wood grain on the dash help add an upscale feel to the Limited without overdoing it.  The seats in the Ford Explorer Limited are firm and spacious. Some passengers complained that the seats were too firm to be comfortable, but I found the driver's seat more than comfortable for daily driving and a 2 hour road trip.
The driver seat offers multiple power adjustments, as does the steering wheel. Owners can configure the seat and the steering wheel to retract when turning the car off for an easier exit. When you push the start button the wheel and the seat move back to position.
If you need to haul cargo, the rear seats fold down to offer a lot of room for gear. We used it to haul a large, heavy workbench with room to spare. The back seats fold down at the push of a button to offer more room without the typical hassles of manually stowing seats, and there is no need to remove them so you can still haul seven people when you get to your location.
A power tailgate offers quick access to the back storage area and is quite convenient. There is no foot open option like on the Ford Escape, though.
Ford Explorer Limited Tech & Safety
The technology, safety and convenience features in the Ford Explorer Limited deliver an essential part of the driving experience, especially on longer trips or any commute that goes through construction or a road where passing is difficult.
Our Ford Explorer Limited review vehicle arrived equipped with MyFord Touch to handle navigation, phone calls and entertainment, as well as the heated steering wheel and heated/conditioned front seats. Dual zone climate control in the front is adjusted on-screen or on the dash, and there is a separate control for the middle seats, which are also heated.
When in reverse the screen shows a backup camera to help you line up to a trailer or fit into a tight spot. The 2014 Ford Explorer Limited review vehicle also included Ford Active Park Assist. This will parallel park for you, while you control the braking. Push a small button to the left of the wheel and drive slowly past parking spots and when it identifies one that you can fit in, you put the car in reverse and stay in control of the brake until you are parked.
While driving another button turns on the Lane-Keeping system that detects the edges of your lane day or night and can alert you when you get close to them. This works when you are traveling 40 miles per hour or faster and is a very nice safety feature. If you stray too far to a side the wheel vibrates to make you feel like you are on a rumble strip. You can also configure this to steer you back into the lane. This isn't auto-pilot, but it is a very handy safety feature that works.
Another option on the Ford Explorer Limited review vehicle solves the annoyance of being behind someone who cannot keep a consistent speed. Adaptive Cruise Control on the Ford Explorer Limited uses sensors to automatically slow down and keep a configurable distance between you and the cars in front of you. Even if your cruise control is set at 70 MPH and the driver in front bounces between 57 and 64 MPH, your car will speed up and slow down as they do.
This feature also includes Forward Collision Warning to help you avoid an accident. This will not stop you, but if there is a chance for a collision it will flash a red alert on the windshield, pre-charge the brakes and increase brake sensitivity. This can help you become aware of a potential accident and avoid it.
When you look at the Ford Explorer Limited mirrors equipped with BLIS you can see if someone is in your blind spot thanks to sensors that light up a small LED signal. This same signal lights up if someone is driving behind you as you back out of a parking spot.
Another safety feature is the Ford Inflatable Seatbelt, equipped in the second row of seats. Passengers thought this seatbelt felt funny compared to a normal one, but it was still possible to wear it easily. When in an accident the seatbelt expands to deliver a softer stop that can better protect children or elderly passengers.
Our Ford Explorer Limited included four-wheel drive with options to change the behavior based on the terrain we drove on. The vehicle also offers hill descent assist which helps you go down a hill at a controlled speed.
Other nice options include auto headlights and Auto Bright, which turns the brights on automatically and back off automatically so you always get the best visibility at night.
Ford Explorer Review Verdict
The Ford Explorer Limited is not your ordinary Ford Explorer. thanks to a number of nice standard features like heated leather seats, a premium entertainment system, lots of areas to charge gadgets and a 110 outlet to charge laptops or more. Add on a package like the 302A which came on our review vehicle and you end up with a very nice interior that comes packed with many safety and driver convenience features.
The steering is a little soft, but in something you plan to drive on the long haul or taking kids to school and practice this is something some drivers may like.
Ford Explorer Limited Photos